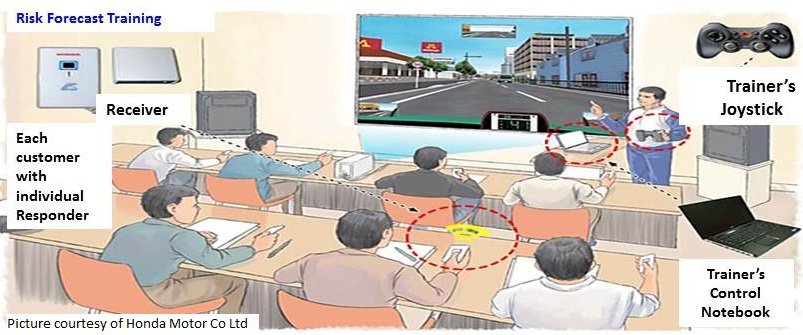 RISK FORECAST TRAINING (PPL 5.01)
All motorcar learners are required to attend Risk Forecast Training (PPL 5.01) after Practical Subject 2.11 and complete before Practical Stage 4.
This lesson helps learners to increase risk prediction capability in actual traffic situations and reinforces their safe driving knowledge thereby reducing the number of practical lessons.
1.  What is Risk Forecast Training (RFT)?
RFT uses a training system that reproduces the actual traffic conditions, allowing users to predict various hazardous situations so as to take countermeasures to prevent accidents.
2.  Who should attend?
Motorcar school customers (Course Code: 3C, 3A and 3P) who have completed Practical Subject 2.11 must attend RFT lesson before Practical Stage 4.
3. What are the benefits of attending RFT?
a.  Able to experience multiple road hazard situations which learners may not encounter during practical training.
b.  Increase self-awareness on road risk and ability to forecast road dangers through an interactive medium.
c.  Adequate preparation for prevention of accidents.
d.  Help learners to develop on anticipating dangers and reinforce the practical driving knowledge, thereby reducing number of practical lessons needed.
 4.  How do I book for RFT?
You may log in to your account online and select Booking → Risk Forecast Training.  The lesson fee is $22.68 (inclusive of 8% GST).
With effect from 1 June 2021, RFT will be conducted online via Zoom Meeting (until further notice).  Customers who have not opt for home-based theory lessons, please submit the HBTL Opt-in Form.
5.  How do I check my attendance for RFT?
The lesson will be updated as 'PPL 5.01' under 'Training History' in your account.
An electronic Provisional Driving Licence (e-PDL) enables learners to learn driving on the public roads under a qualified driving instructor.
APPLICATION & RENEWAL OF  ELECTRONIC PROVISIONAL DRIVING LICENCE (E-PDL)
1. You may apply for your e-PDL via:
https://eservices.police.gov.sg/content/policehubhome/homepage/provisional-driving-licence.html or Police@SG mobile app with your SingPass. For foreigner without Singpass, you may apply with your FIN number and Date of Birth.
2. Payment is $25 by eNETS/Visa/ Mastercard/Debit Card.
3. E-PDL is valid for 2 years from date of application.
IMPORTANT NOTE:
1.  Please apply for e-PDL before attending the practical lessons.
2.  E-PDL expiry date will be automatically reflected in our system on the next working day.